Dohmeyer's New State-of-the-Art Facility in Mielec, Poland: Doubling Capacity
June 1, 2023
Dohmeyer is a leading global manufacturer of cryogenic refrigeration systems for the food processing, pharmaceutical, aeronautic, plastics and steel industries. For more than a decade, Dohmeyer has continued to develop innovative chilling and freezing solutions with its own team of dedicated engineers specializing in cabinet, in-line tunnel, immersion and spiral freezers. Each freezer system is custom-designed to its customer's specific requirements using ISO quality standards and, when required, EHEDG hygiene design guidelines. Dohmeyer also offers installation assistance and a comprehensive after-sales service program for spare parts, preventative and corrective maintenance repairs along with a 24/7 emergency hotline to minimize any equipment down-time for its customers.
Dohmeyer is delighted to announce the grand opening of its new, state-of-the-art facility in Mielec, Poland. This remarkable achievement marks a significant milestone for the company, as it effectively doubles its capacity to meet the growing demand for cutting-edge cryogenic solutions. With a commitment to innovation and customer satisfaction, Dohmeyer continues to reinforce its position as a global leader in the industry.
Expansion to Mielec:
The decision to establish a new facility in Mielec was driven by Dohmeyer's unwavering dedication to meeting the evolving needs of its customers. The strategic location in Mielec provides several advantages, including proximity to key markets, a skilled workforce, and robust infrastructure. By expanding into this thriving industrial hub, Dohmeyer aims to strengthen its presence in Europe and enhance its ability to deliver world-class products and services to a wider customer base.
Cutting-Edge Infrastructure:
Dohmeyer's new facility in Mielec is a testament to the company's commitment to excellence and its pursuit of technological advancement. The state-of-the-art facility boasts cutting-edge infrastructure and modern amenities that enable efficient production processes and streamlined operations. Equipped with the latest machinery, quality control systems, advanced research, and development laboratories, the facility is designed to facilitate innovation, ensure product quality, and meet the highest industry standards.
Increased Capacity, Enhanced Capabilities:
The expansion to Mielec represents an exciting chapter in Dohmeyer's growth story. By doubling its capacity, the company is better equipped to meet the surging demand for its cryogenic technology solutions across various industries. The increased production capabilities will allow Dohmeyer to expedite delivery times, offer a wider range of products, and cater to larger-scale projects, thereby solidifying its position as a preferred partner for businesses seeking innovative cryogenic solutions.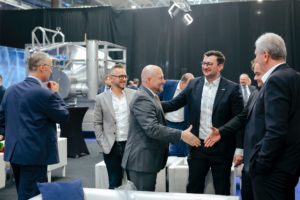 Collaboration and Innovation:
Dohmeyer's new facility not only expands its production capabilities but also fosters collaboration and innovation. The facility's design emphasizes open workspaces and encourages interdisciplinary cooperation among teams, fostering a culture of creativity and idea exchange. By bringing together experts from various fields under one roof, Dohmeyer aims to spark new ideas, drive advancements in cryogenic technology, and address complex challenges faced by industries worldwide.
The grand opening of Dohmeyer's new state-of-the-art facility in Mielec, Poland, marks a significant achievement for the company, enabling it to double its capacity and meet the ever-increasing demand for innovative cryogenic technology solutions. With cutting-edge infrastructure, enhanced capabilities, and a commitment to collaboration and sustainability, Dohmeyer solidifies its position as a global leader in the field. As the company enters this new era, customers can expect exceptional products, improved service, and groundbreaking advancements that will shape the future of cryogenic technology.