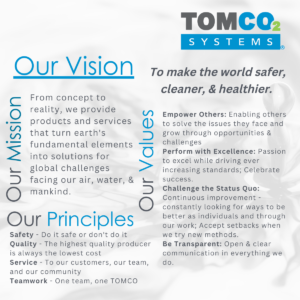 OUR VISION
To make the world safer, cleaner, and healthier.
OUR MISSION
From concept to reality, we provide the products and services that turn the earth's fundamental elements into solutions for global challenges facing our air, water, and mankind.
OUR PRINCIPLES
Safety – Do it safely or don't do it
Quality – The highest quality product is always the lowest cost
Service – To our customers, our team, and our community
Teamwork – One team, One TOMCO2
OUR VALUES
Empower Others: Enabling others to solve the issues they face and grow through opportunities & challenges.
Perform with Excellence: Passion to excel while driving ever-increasing standards; Celebrate success.
Challenge the Status Quo: Continuous Improvement – constantly look for ways to be better as individuals and through our work; Accept setbacks when we try new methods.
Be Transparent: Open & clear communication in everything we do.